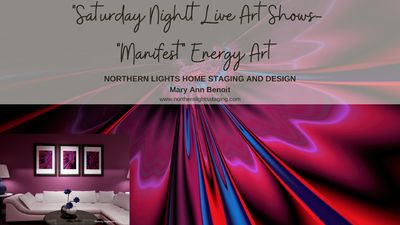 Welcome to Saturday Night Live Art Shows? See the show at https://youtu.be/MQ-EduowOEc.

In this show, I share my Aligned Energy Art series called "Manifest", with three fractal art /sacred geometry pieces in an Edesign I created to highlight them.

Why "Manifest"?

Everything is Energy. Use the power of your will and intention to manifest abundance and create your dream life.
My Edesign aligns art, science, and energy to create your perfect space.

See this fractal art/sacred geometry series in my "Manifest" Collection at https://maryann-benoit.pixels.com/collections/manifest.

Visit my website to learn more about fractal art, how you can use it in your home, and about my online Interior Design, color consulting and home staging services at www.northernlightsstaging.com

Get an Aligned Design consultation which included an Interior Design, Color, and Energy consultation, and custom fractal art to tie it all together. https://northernlightsstaging.com/aligned-design/.